Orthodontic Services – Huntington, NY
Comprehensive, Dedicated Orthodontics
For the Whole Family
At Huntington Orthodontics, no one knows the power of a straight, healthy, and confident smile better than our team. As a Board-Certified specialist, Dr. Justyna Balicka has clearly demonstrated her tried-and-true skill when it comes to guiding teeth towards their ideal alignment, and she offers a wide variety of different services so that each treatment plan is an ideal fit for the patient's age range and unique goals. Whether your child is finally ready for braces or you'd like to explore the cosmetic benefits of Invisalign® Clear Aligners in greater detail, we can't wait to get started.
Are you ready to schedule a first appointment? Do you have any questions? Don't hesitate to contact our Huntington, NY dental office today. You can also keep reading below to learn more about the transformative orthodontic procedures we offer:
Traditional Braces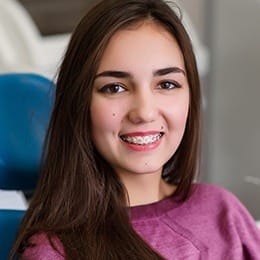 Braces have been relied on to faithfully straighten smiles for many years now, and they're still a great treatment choice for children and adults alike. In addition to metal brackets and wires, Dr. Justyna also offers a few alternative options if you'd like to explore out of the box. For instance, clear/ceramic braces have all the same components as the original orthodontic model, but their much subtler appearance may help you or your self-conscious child feel a little more comfortable. Lingual braces are also available!
Learn More About Traditional Braces
Phase I Pediatric Orthodontics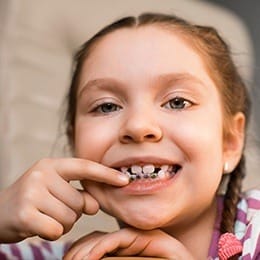 It's very important that children undergo an orthodontic screening by the age of seven. This first visit should reveal any potential concerns that may require treatment in the near-future. In fact, Dr. Justyna could recommend Phase I Pediatric Orthodontics, which involves the use of orthodontic appliances and at-home habit adjustments (such as ending thumb/finger-sucking) in order to improve your son or daughter's developing smile. This early intervention should hopefully lessen the need for extensive treatment further down the road.
Learn More About Phase 1 Pediatric Orthodontics
Adult Orthodontics
Have you always wanted to straighten your smile or fix your bite but never had the chance to do so as a child? Just because you've gotten older doesn't mean you should have to settle for misaligned or crowded teeth! At Huntington Orthodontics, Dr. Balicka is trained to provide orthodontics to patients of many age groups, not just kids and teens. Learn more about our options to determine which treatment works best for you!
Learn More About Adult Orthodontics
Invisalign®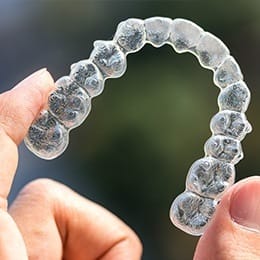 Many older patients regularly dream of finally getting rid of noticeable smile gaps and misaligned teeth, only to hit a roadblock at the idea of wearing metal braces for years on end. Did you know that there are now orthodontic treatment options available that prioritize natural appearance? With Invisalign Clear Aligners, it's easier than ever to reposition teeth and finally achieve that beautifully confident appearance.
Orthodontic Appliances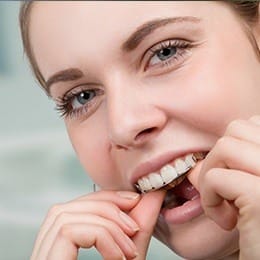 In addition to braces, Dr. Justyna also has several orthodontic appliances waiting in the wings for when patients need them most. For instance, retainers are a crucial part of the treatment process. After your braces come off, teeth are likely to start straying back towards their original positions; a custom-made retainer will successfully prevent this regression and help your brand-new smile stay safe. Other appliances include palatal expanders for developing wider dental arches in children, space maintainers that can hold open the gaps left by prematurely lost teeth, and more.
Learn More About Orthodontic Appliances
Dentofacial Orthopedics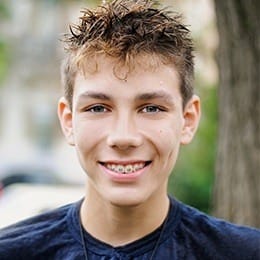 Most people are familiar with orthodontics, but they're stumped when the term "dentofacial orthopedics" is brought up. This dental specialty involves the guidance of facial development and growth over time so that a patient's adult teeth turn out as healthy and functional as possible. Children are typically the best candidates for this type of treatment because their jawbone is still developing, but adults may benefit as well in certain cases. Dr. Justyna has extensively studied dentofacial orthopedics and is well-qualified to provide this type of advanced treatment!
Learn More About Dentofacial Orthopedics
Orthodontic Emergencies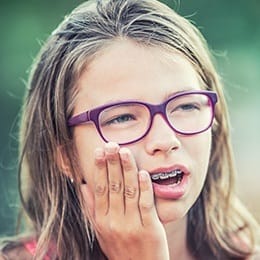 Orthodontic treatment can take a little getting used to. Patients are likely to experience some minor soreness or aches as teeth start to gradually shift. Beyond these minor irritations, true emergency situations are very rare – but they can happen! If you or your child is experiencing a broken bracket, a poking wire, or any severe oral discomfort, don't hesitate to contact our Huntington, NY practice for assistance. In most cases, Dr. Justyna can accommodate orthodontic emergencies on the same day as your family's initial call!
Learn More About Orthodontic Emergencies
Orthodontic FAQs
No matter your age, there are available orthodontic options for everyone. From metal braces to Invisalign, your orthodontist in Huntington can guide your smile with the right method of treatment for you. But before you take the plunge, we understand you might have some questions, which is why our team has compiled a list of orthodontic FAQs. Even after you've finished reading, we invite you to contact us to schedule an appointment or ask any additional questions you might have. At Huntington Orthodontics, we're here to help!
Will Braces Hurt?
When having your braces in Huntington placed or adjusted, you can expect to feel some soreness. Your teeth are getting used to this new material and fixture in your mouth. Whether you have traditional braces or Invisalign, each time you either have the wire adjusted or you switch to a new set in the series, you will experience a level of discomfort; however, over-the-counter pain medicine can help. The discomfort should only last a few days.
Why is Having Straight Teeth Important?
Straight teeth make it much easier for you to keep your pearly whites clean. If you have overcrowding, a bite alignment problem, or even gaps between your teeth, this can make you vulnerable to tooth decay and gum disease. Bacteria and food particles can become easily trapped, making it hard to floss and remove anything that might be lodged between your teeth. It's also much more difficult brushing and feeling confident that your brush covered the surface of every tooth.
Straight teeth make it possible to have a beautiful and healthy smile.
Will Braces Keep Me from Playing Sports?
Not at all! If you're wearing traditional metal braces, it might take some getting used to while out on the field or court, but as a word of caution, make sure you are wearing a mouthguard. Anyone with orthodontics who plays sports or engages in physical outdoor activity should always wear a protective mouthpiece, as damage to your braces and/or teeth can be serious.
How Long Will I Need to Wear a Retainer?
Oftentimes, people underestimate how important a retainer is at preventing your teeth from shifting back into their original position. Once you are finished with treatment, you will need to wear a retainer all day, every day, for at least a few months. Then, once she is satisfied with the results, you can switch to wearing it at night. This is a lifelong commitment, so even if you had braces 15 years ago, you should still be wearing your retainer.
You do have the option of a fixed retainer, though. This is a great option for individuals who will have difficulty remembering to put in their retainer. Once it fixed in your mouth, the only thing you'll need to worry about it keeping it and the area underneath it clean.