Phase I Pediatric Orthodontics – Huntington, NY
We Help Young Smiles Grow Up Confidently
The growth of a child's teeth, jawbone, and the overall bite is a gradual process, which is why Dr. Justyna highly recommends that you schedule an initial orthodontic screening for your son or daughter once they reach the age of seven. During this evaluation, she may discover that her young patient has a high risk of developing dangerous overcrowding, crossbites, overbites, or similar problems in the near-future. Thankfully, pinpointing these tell-tale concerns earlier rather than later makes them much easier to stop in their tracks with Phase I Pediatric Orthodontics! If you have any questions or would like to schedule a first appointment for your loved one, don't hesitate to contact us in Huntington, NY.
Why Choose Huntington Orthodontics for Phase I Pediatric Orthodontics?
Friendly & Gentle Team With Many Years of Experience
Family-Oriented Atmosphere
Flexible Appointment Times During Evenings & Weekends
How Does Phase I Treatment Work?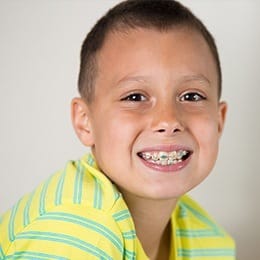 While not every child will need Phase I treatment, here are some of the cases where Dr. Justyna is likely to recommend early intervention of some kind:
Baby teeth have been lost too early
Significant speech impediments are present
Baby/adult teeth noticeably protrude
The teeth fit together unevenly and/or are too crowded
Loud, constant mouth breathing is regularly occurring
Thumb/finger sucking is still a common habit
This kind of care is individualized to fit each young patient's unique needs, depending on the kinds of issues present and their overall severity. For instance, we may recommend the placement of expanders and/or growth appliances to shape their developing jaw more successfully. Partial braces can help positively influence existing adult teeth as the rest are still erupting as well. Sometimes, early intervention may be as simple as following at-home tips from Dr. Justyna for helping your son or daughter stop stubborn non-nutritive habits like finger and thumb sucking.
What Happens During Phase II?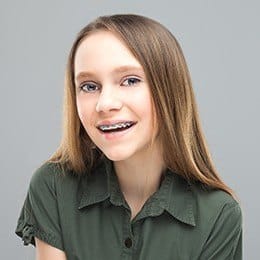 Following Phase I Treatment, most children will need to undergo a period of resting so that any remaining permanent teeth can safely take the place of "baby" teeth and settle into their overall smile. During this time, Dr. Justyna may recommend the use of a retainer so that any positive improvements we achieved are well-maintained. Once they're ready for traditional orthodontic care (typically between the ages of 11-13), we'll likely fit them for a full set of braces. Not always, though – one of the biggest benefits of early intervention is that in many cases, the need for future orthodontic treatment is minimized or even eliminated altogether!
Pediatric Orthodontics FAQs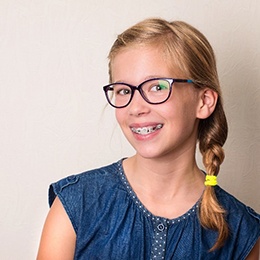 Has your child's orthodontist recently recommended pediatric orthodontics? If so, you and your child probably have a lot of questions before you agree to move forward with treatment. Fortunately, Dr. Justyna and her team at Huntington Orthodontics are here to answer your questions and offer greater insight into the expectations and process that occurs at this stage of orthodontic treatment. Should you not find your question below, please don't hesitate to reach out to a member of our team.
Why should my child undergo orthodontic treatment at an early age?
It is far easier to correct a child's jaw, bite, and teeth while they are still developing. This is why early screening can be beneficial, as their pediatric orthodontist can readily identify problem areas and work to correct them before more costly and complex methods of treatment are necessary. Although it is not always guaranteed that your child will not require braces in the future, there is a chance we can address problems with their facial structure early on, allowing their permanent teeth to properly erupt and come in straight.
What signs should I look for that dictate my child needs orthodontic treatment?
It may not always be easy attempting to identify early signs that point to necessary orthodontic treatment, which is why it is important that you bring your child in for an orthodontic screening by the age of 7. Until that time, should you notice their teeth appear crooked, gapped, or overlap, this is often the most common sign they need early orthodontic treatment. You should also look for:
The alignment of their jaw when biting down to see if it appears off-centered
When biting, look for signs of an overbite, underbite, crossbite, or open bite
Will it hurt my child to wear braces?
No matter if they are undergoing Phase I or Phase II orthodontic treatment, there is a chance your child will experience some discomfort in the beginning. Fortunately, this should only last a few days. With the help of over-the-counter medicine (i.e., Tylenol or ibuprofen) and a cold compress, you can help relieve any pain and help your child feel better. It may also be helpful to have them eat soft foods in the beginning to avoid putting additional pressure on their metal fixtures.
Will dental insurance cover the cost?
At Huntington Orthodontics, we proudly accept a variety of PPO and community dental insurance plans. We know orthodontic treatment can be costly, which is why our team will work to help you maximize your benefits and get the most out of your policy. No matter what phase of treatment your child is receiving, we will happily file any paperwork and claims on your behalf as well as provide a comprehensive pre-treatment estimate, so you can better prepare for any out-of-pocket expenses and avoid any surprises as your child moves along with treatment.
It is also possible for you to apply for additional financing in our office. With no credit checks involved and 0% interest, you can enroll in a convenient payment plan to make sticking to your budget easier than ever.
What changes will my child need to make while wearing braces?
Should it be necessary for your child to wear braces, you will need to make sure they avoid eating hard, crunchy, or sticky foods (i.e., popcorn, nuts, hard/sticky candy, gum). They'll also need to be diligent with their oral hygiene, brushing, flossing, and rinsing regularly to avoid bacteria build-up around their brackets and wires as well as on and between their teeth. You might also invest in dental wax, which you can purchase at the local drug store. This will help to minimize irritation to the soft oral tissues caused by the rubbing of the metal brackets and wires.