Meet Huntington's Favorite Orthodontic Team
At Huntington Orthodontics, our dedicated team members are always ready to answer your questions, address any concerns, and help everyone have a smooth care experience that inspires new reasons to smile! When it comes to you and your family, we strongly believe in going above and beyond whenever needed. If you'd like to learn more about their friendly faces, just keep reading below:
Marybeth, Office Manager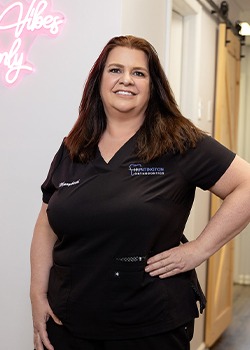 Marybeth has been working in the oral healthcare field for over three decades now, and she loves caring for patients in her local community every day, as well as spending time alongside such a great team. She attended Nassau Community College and then studied dentistry at the Great Lakes Orthopedic Labs, where she worked as a technician and received certification in the fabrication and soldering of orthodontic appliances. She is also CPR certified.
Marybeth is married to her high school sweetheart and has three children named Nicole, Jessica, and John III. Her hobbies include gardening, swimming, going to concerts, traveling, and baking. She also loves horses and even bought her own as a teenager. She taught herself how to ride bareback and enjoyed it for many years before her children came along!
Glenda, Dental Assistant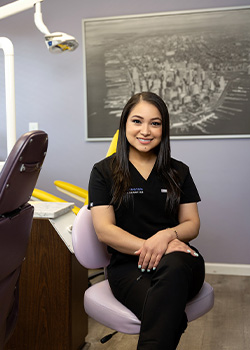 For Glenda, the best part of being a dental assistant is working with people in her community and sharing her orthodontic experience with new patients. She studied at Nassau BOCES, which is where she earned her certifications in dental assisting, CNA, and CPR. Born and raised in Huntington Station, she is looking forward to many more years of helping patients on their journey to their dream smile!
Away from the office, Glenda's favorite thing to do is spend time with friends and family, especially when it involves going out for dinner, going to the movie theater, and shopping. Here's an interesting fact about her: she's bilingual in Spanish and English.
Veronica, Certified Dental Assistant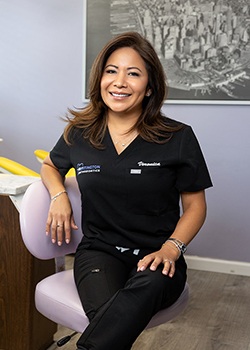 Veronica's career in the dental field spans two decades and counting so far. She attended the Boces Dental Program for her education and is also certified in EKG & Phlebotomy, as well as CPR. She finds her job very rewarding! Being able to watch the patients undergo beautiful smile transformations from their first appointment to the day they get their braces off is an amazing experience.
Originally from Hempstead, Veronica has four children and a little grandson. She spends her free time trying new foods, visiting new restaurants, and traveling. She is actually bilingual and speaks Spanish in addition to English.
Jesielle, Orthodontic Assistant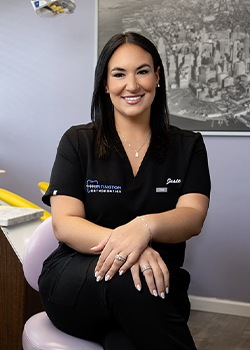 Jesielle has been working in the oral healthcare world for over 10 years now, and she really enjoys spending time alongside such a great group of talented ladies here at Huntington Orthodontics! Originally from Levittown, she earned her education from Monroe Community College.
At home, Jesielle is married with two sons and a daughter. She really enjoys spending quality time with friends and family when she isn't busy at the practice, as well as traveling to lots of exciting new places.