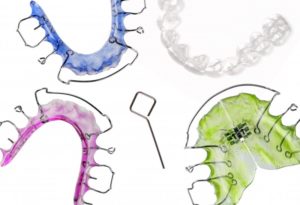 The time has almost come to get your braces taken off by your orthodontist. Finally! You've been wearing them for what feels like decades now. You're excited to see your straight smile, and you want to keep it that way for as long as possible. Most of the time, the best way to do that is to wear a retainer. Let's learn a little more about retainers, and whether you'll have to wear one after your treatment.
Why Are Retainers Necessary?
There are two main reasons why wearing a retainer after orthodontic treatment is needed:
To maintain your teeth's healthy new positions
To give the bone that holds your teeth together time to heal after shifting
Since teeth shift naturally throughout your whole life, you're going to need a retainer to keep them from moving back into their original misaligned position. Otherwise, all that time spent wearing braces will have been for nothing.
What Are the Types of Retainers?
There are two basic kinds of retainers: removable (placed and removed by you) and fixed (put in and eventually removed by your orthodontist). A fixed retainer typically involves a thin wire that is custom-fitted and bonded to the lingual, or tongue, side of upper and/or lower teeth to keep them in place.
On the other hand, there are two kinds of removable retainers: wire and clear. Wire retainers consist of plastic and a wire. The part that goes over the roof of the mouth is plastic, while a wire holds the teeth in place and keeps them from shifting back to their original position.
Clear retainers are transparent plastic trays made from impressions taken of your newly straightened pearly whites. If you have seen or worn Invisalign before, it's essentially like that. The trays will work to keep your teeth aligned while being clear and barely noticeable.
How Long Do You Have to Wear a Retainer?
The amount of time you'll need to wear a retainer depends on your individual case. Most of the time, it's recommended that you wear your retainer all day and night for a few months following treatment. Then, after your orthodontist gives the okay, you can switch to only wearing it at night.
Be sure to wear your retainer while you sleep for the rest of your life to prevent your teeth from becoming misaligned again. After all, you don't want to go through braces again if you can help it!
About the Author
Dr. Justyna Balicka earned her doctorate from the New York University College of Dentistry. She later underwent three years of an orthodontic residency and was awarded Resident of the Year. She has since become a Diplomate of the American Board of orthodontics, an achievement that very few orthodontists have accomplished. If you would like to get a straighter smile in Huntington, NY, book a consultation with Dr. Balicka by clicking here or calling (631) 423-7857.